by TERENCE STRONG
My own imprint – Silver Fox Press – has now taken over my entire backlist. And it
will publish my new hardback thriller WOW (do enter the Guess-The-Title Competition on the 'Terence Strong. Author' FACEBOOK page) this autumn.
In recent years I have been published by Simon & Schuster UK, although in 2013 I set up Silver Fox Press to publish ten of my backlist titles that had become available for eBook format.
At the same time, my last thriller Some Unholy War was published by S & S without much fanfare.
As a result of this, I have decided that Silver Fox Press will now re-publish all my titles in both paperback and eBook editions. This process should be complete by the New Year.
It will also publish its first hardback, my latest thriller code-named WOW (there is a pre-launch title competition now running, see my FACEBOOK 'Terence Strong. Author' Page) which will be out for Christmas.
For the first time, WOW introduces the bad boys of the super-secret E Squadron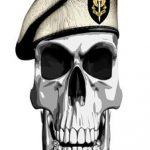 SAS, veteran 'handmaidens' to MI6.
In the fastest growing book sector, ISIS AUDIO has already snapped up WOW and has announced that it is immediately revamping and recording missed titles and even re-recording some older editions in the Terence Strong range.