Word of War
The first of a sharp and topical new thriller series opens with civil war raging in Libya as the evil regime of Colonel Gaddafi collapses in the 2011 Arab Spring.
Into this maelstrom of violence arrive a covert team of  MI6 officers and their minders,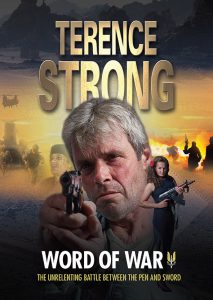 the veteran madmen from ultra-secret E Squadron SAS. They land by helicopter straight into the hands of the Libyan rebels in Benghazi and the very unwanted glare of world-wide press and media attention.
Only ex-Royal Marine and close-protection expert James Royce manages to extradite his intelligence chiefs from the mess to carry on their secret mission in Tripoli. It becomes his task to protect fiesty frontline journalist Jo Brampton who doesn't want his protection. But MI6 has other ideas and another agenda. It becomes a match made in hell that might just help them survive the real-life hell on earth.
As they are drawn into a helter-skelter journey of action and unfolding international intrigue, the journalist is to stumble across the greatest story of her lifetime, the real misplaced birth of the horror machine and death cult that is to become known as Islamic State.
HEAR 1ST CHAPTER:

Some Unholy War
Dave Aston is a dead man walking.
He had been a soldier, a member of the elite British SAS. He'd ridden an adrenalin
wave, invincible. Black ops in Iraq and Afghanistan. Until that final mission into bandit country. Unauthorised, so no back up. That was when his luck ran out… Before a return to an alien civilian life of bad dreams and bad people. Everything is lost: his marriage, his home and his self-respect. Down and out, with a broken body and damaged soul, on the cold, mean streets of his own homeland. Is he just too far down to fight back against a new evil force at work in his own back yard? Can he possibly find the strength and courage to avenge his friends and save himself?
HEAR 1ST CHAPTER: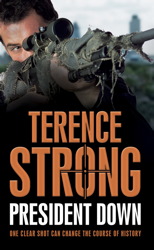 President Down
The threat from al-Qaeda is at its peak. Washington and London are atremble. When and where will the next strike be? Meanwhile former intelligence officer and one-time army sniper, Phil Mason, is struggling in Civvy Street as a private-eye. So the call from a desperately over-stretched MI5 to help with homeland security is welcome. At first. But in this murky world of smoke and mirrors nothing is what it seems. A routine surveillance operation escalates into a full-blown international crisis. In a desperate race against time – with a possible traitor in their midst – Mason and his team are faced with averting the threat. And he must hastily re-hone his old counter-sniper skills, returning to the business he swore he had left behind forever. The killing game.
HEAR 1ST CHAPTER: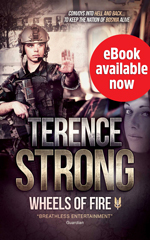 Wheels of Fire
Ex-SAS Jeff Hawkins is summoned to replace a 'negotiator' in the Royal Wessex. Its job is to keep life-saving UN aid convoys running into war-torn Bosnia.
But the CO isn't up to the job and his oppo in Liaison is running another agenda with MI6. Meanwhile the uneasy Muslim-Croat alliance against the Serb enemy is breaking down with the arrival of jihadi fighters from Afghanistan. Only the start of the winter snow brings a lull to the mayhem. Yet it also brings a nightmare challenge. One huge aid convoy must run the gauntlet of fighting along the icy mountain roads to relieve the starving in the beseiged city of Sarajevo. The air horns of one hundred trucks blast defiantly on a journey to hell and back.
'Read it, guys! Research is brilliant. Took me back to a few places in my mind. Three tours in my time.' Nobby Clarke, Pompey.
'I must congratulate you on a very accurate and moving (fictionalised) account of those days of the siege when reporter Mike Nicholson and I got Natasha out from her hell hole orphanage in Sarajevo.Your book took me back in time to those bad days there and to many other places I ended up. Thanks for reminding me.' John Martin (Retd ITN senior cameraman) Loughton, Essex.
'This is a great story. As someone who was "on the ground" during this conflict (UNHCR radio operator), this one really hit home with me.' Graham Small.
READ 1ST CHAPTER    HEAR 1ST CHAPTER    BUY BOOK    BUY AUDIO BOOK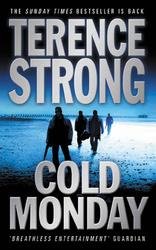 Cold Monday
His wife had been brutally murdered in the Bosnian War. Now ex-SAS operative Ed Coltrane was on the trail of her killers.
But the hunt for them is taking its toll. He's spent too much, drinking too much and his life is going into meltdown. Then he discovers one of her killers is in London – as a guest of the British government. However, others in the official secret world want the man dead. They will pay and help Coltrane to do the job. It's too much to resist. Yet he is unaware he is just a pawn in someone else's game of bluff and double-bluff being played by the secret masters of the European Union. So begins his dangerous journey into the dark heart of an emerging new superstate.
READ 1ST CHAPTER    HEAR 1ST CHAPTER    BUY BOOK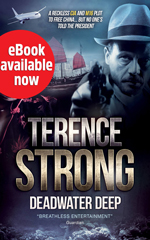 Deadwater Deep
As Britain hands over Hong Kong to the Communist government of China, a secret long-term plan is revealed to the new Prime Minister in London.
It is a plan to counter  the Chinese strategy for world domination and its frightening growth in economic and military might – a plan to set free one fifth of the world's population. Its success depends on laconic CIA agent John Dancer, who has been in Beijing too long and Project Deadwater. The programme pushes Anglo-US stealth submarine technology to the limit and demands total courage from the SEAL, SBS and SAS teams it will put ashore. The most audacious power-broking game in history is about to be played out. Only problem is, no one has yet told the US president.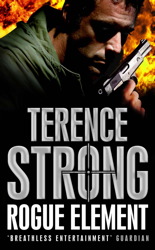 Rogue Element
For 20 years he has worked undercover for Britain's internal security service MI5. Then it asks one favour too many, an act of personal betrayal.
When he refuses, he sees his world collapse. He finds himself accused of a high-profile murder he did not commit. Yet the evidence against him is overwhelming. Only his pal Chris Lomax believes his innocence. The former SAS tracker finds himself on the trail of the most deadly adversary of all – a rogue element within the secret state. With crusading defence lawyer renowned for her fiery temperament, Lomax takes on the police, government and legal system in a harrowing battle to prove a man innocent. It's a battle that inexorably unearths dark secrets and a devastating conclusion.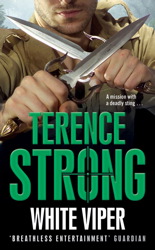 White Viper
When vast quantities of a very pure and branded cocaine flood Britain and the USA, their governments have to look for a man to send beyond the reach of international law.
Someone willing and able to take on state tyranny, terrorism and evil traffickers. A name from the Z FILE – the last resort. Enter Kurt Mallory. Oddball, onetime SAS, infiltrator, investigator and ruthless killer. He is either your greatest friend or your deadliest enemy.  This covert search-and-destroy operation leads his team to the badlands of South America. There he is forced to face the demons of his past as well as survive the greatest depths of inhumanity imaginable. No one else is quite like el vago pequeno. He's still out there, somewhere.
READ 1ST CHAPTER    HEAR 1ST CHAPTER    BUY BOOK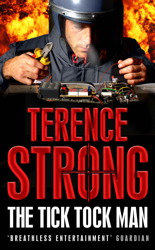 The Tick Tock Man
That's what the tabloids call army bomb disposal expert Tom Harrison when he's brought in to help the London police team battle a new terror campaign.
Each device is more deadly and cunning than the last. Almost as if someone is testing him, trying to find his limits – a long dead adversary reaching out from beyond the grave. But surely that cannot be possible? Time and luck are running out as Harrison is pitched into a very personal struggle – a struggle where just one mistake will be his last. This is a terrifying, thoroughly researched journey into the dark and claustrophobic world of the professional bomb-disposal man. It is what The Hurt Locker should have been.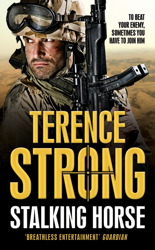 Stalking Horse
After six years' in deep cover to penetrate the IRA, Max Avery is a man on the edge. A man starting to crack, who wants out. But London and Washington have other ideas.
Iraq has invaded Kuwait and Saddam Hussein threatens a terror strike to win him the Gulf War before it's begun. The Western allies need a stalking horse to get close the enemy – and Avery is their man. Whether he likes it or not. And so he is plunged into a nightmare mission with the SAS and the American Delta Force. A mission that will also put his wife, his future and his very life on the line.
'Frighteningly plausible – a powerful plot and sharply-drawn characters in an action-packed page-turner.' Yorkshire Evening Post
READ 1ST CHAPTER     HEAR 1ST CHAPTER     BUY BOOK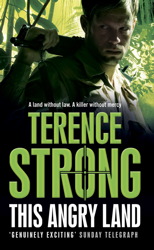 This Angry Land
For 14 years Mike Branagh has kept the demons at bay. The former SAS sergeant from Ulster has renounced the gun – with a little help from the bottle and a beautiful village girl who has become his lover.
He now devotes his life to others in war-torn land of Mozambique in south-east Africa. Here is the real cockpit of the Cold War, where East and West test each others' metal without regard to the loss of innocent human life. As the terror spreads Branagh must fight again, plunged into the savage cauldron that the nation's killing fields have become. To his surprise he must confront not just one, but two pitiless enemies.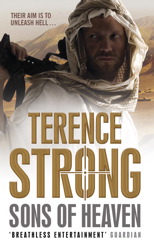 Sons of Heaven
They are the Pessarane Behesht – the Sons of Heaven – the secret sword of Islam. Spawned in revolutionary Iran to wreak vengeance on the enemies of Allah.
When the freighter Clarion Call mysteriously disappears, she is carrying French arms for the terrorist faction in return for the release of a diplomat being held hostage. Ex-SAS major Robert D'Arcy, whose international security firm is protecting the ship, finds himself in a deadly battle of wills between the state-sponsored terrorists and rival Western agencies with conflicting interests. As the Iranians resort to kidnap and assassination – with the lives of an innocent woman and her child hanging in the balance – D'Arcy must act alone to prevent horrifying carnage.
READ 1ST CHAPTER    HEAR 1ST CHAPTER    BUY BOOK    BUY AUDIO BOOK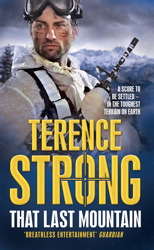 That Last Mountain
Brian Hunt is a sergeant-major in the SAS. His task is to snatch a defecting Russian 'Star Wars' scientist from Stockholm. She is the she-wolf. Leader of a crack Spetsnaz pack. Her task is to get the scientist back. Dead or alive. Their paths have crossed before. Now the score must be settled.
In between is the scientist. He is ruthlessly manipulated by both sides, torn between loyalty to his country and the love of a woman. This is a story of sweeping passion and betrayal, of endurance and breathtaking action in the Scandinavian mountains – the toughest terrain on earth.
'An expert miasma of treachery and suspicion building to a thrilling climax.' The Observer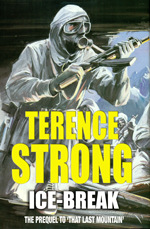 If you enjoyed this book, click here to read the short story ICE-BREAK – the prequel to That Last Mountain.
READ 1ST CHAPTER    HEAR 1ST CHAPTER     BUY BOOK
BUY AUDIO BOOK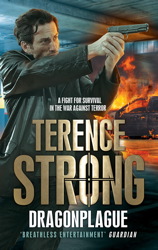 Dragonplague
After doing a five-year prison stretch on a robbery charge as a getaway driver, ex-Royal Marine Billy Robson is determined to go straight.
Rejecting dubious offers from East End underworld friends, he jumps at the one legitimate job going – unaware he is being ensnared in a web of corruption and addiction that may cost him his new-found freedom and his family. Spreading its tentacles from the Middle East, through Britain and out to America, a massive terrorist network is gearing up to flood the West with heroin. Caught in the middle of it all, Robson finds himself and those he loves fighting for survival as he dares to stand up for what he believes in.
READ 1ST CHAPTER     HEAR 1ST CHAPTER     BUY BOOK
Conflict of Lions
"When the lion returns it will not be a time to rejoice. He wants to be king of all animals. But we already have a king in the land. There cannot be two. Blood will be spilled."
In the hiatus following the Falklands War, a team of hardened SAS troops is sent to a quiet West African backwater as a safeguard against rumblings of  political discontent in the fragile new democracy.
It is also intended to give the men a period of recuperation after the violent burst of full-blooded warfare. And so it does … until a tourist is found dead on the beach. Legendary Captain Johnny Fraser finds he has returned to a brooding land of fear and unrest, swept by a rising tide of bloodlust and revolutionary fervour. And to the only woman he has ever loved.
The Fifth Hostage
He is a journalist who knows too much. She is his lover, a Norwegian press photographer who shares his deadly secret. They are held in revolution-torn Iran. Their captors want them to talk. Britain is determined they should not…
Their fate lies in the hands of an SAS team headed by the enigmatic Arabist, Major Alan Hawksby. He and his men must disappear into a country of hostile turmoil in a desperate rescue bid against the clock. The real life mission becomes a gruelling ordeal that calls for ingenuity, sacrifice and courage in a dangerous and desolate terrain – cut off from the outside world. It is a story of passions and loyalties tested to destruction as the sweeping shadow of fanaticism and terror darkens the land.
'No one can cram in the action like Strong.' Glasgow Evening News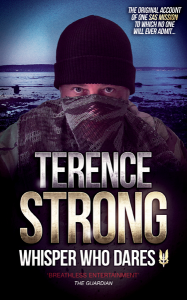 Whisper Who Dares
An action-packed, nerve-shredding inside account of a crack SAS team sent to cut the jugular of the Provisional IRA.
The British government is worried. Rumours have spread about a new monster in the armoury of the Irish terrorist movement: an utterly ruthless team of American special forces mercenaries. The top secret, top priority order goes out:
Seek and Destroy – No Matter Where.
For the four-man Sabre team this will be their toughest ever assignment… probing the inner sanctum of the IRA's terror machine, fighting in the bloody carnage and chaos of Ulster. Never before has so much been at stake. They encounter triumph and disaster – and the cruellest twist of fate. OVER ONE MILLION COPIES SOLD.
HEAR 1ST CHAPTER:

Available at all good booksellers – find your local bookseller here.