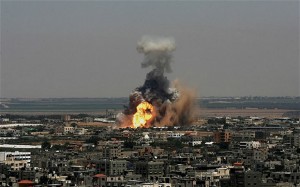 Article contributed by 'D.W.'
(Military & international affairs adviser to thriller writer Terence Strong)
There is an old, typically-English (politically incorrect) joke about the Holy Land called 'The Miracle' and it goes something like this:
'According to the New Testament of The Bible, Jesus was born in Bethlehem, in Palestine, a country where people are called Mohammed, Abdel, Mounir, Aziz, Ahmed, Farid, Omar, Youssouf, Mouloud, etc
'And Jesus managed to find 12 buddies called John, Peter, Paul, Phillip,
Mark, Thomas, Luke, Mathew, Andrew and Simon ….all of whom drank wine !!!
'That's what I call A MIRACLE!'
When I was working in Ramallah for nearly a year, I used to live in Jerusalem. I still have many Palestinian and Israeli friends from that time, as well as many other Muslim and Jewish friends from other countries.
The Palestinians in Jerusalem, Ramallah, Bethlehem and elsewhere have a high number of Christians (mostly Greek orthodox) among them. The Palestinians are the possibly most socially advanced and wonderful people amongst all Arabs. They are also extraordinarily well educated.
In my view, the state of Israel has become a cruel and racist machine which has the blind support of the US Government, and many other people who are scared to say anything against it – due to the background of the Holocaust and historical discrimination.
The simple fact is that #Gaza has all the appearance of a ghetto. It was created by Israel and is perpetuated by #Israel. Israel holds all the cards.
It is simply not the way it can sometimes look on TV. It is mostly lies told by a professionally manipulated media. I am not a soft reactionary, I am a veteran in my field of expertise. I am not given to allowing emotions to affect my judgement of political and geo-political matters. I know what I am talking about.
Of course, Hamas does not have the best of reputations and is recognised as a terrorist organisation by many international authorities. But at least in Palestine, it was democratically elected. In fact it was the only legitimate election in almost any Arab country.
And what did the rest of the world expect? Democracy is a process, and it must start somewhere. The residents of the open prison we call Gaza, a ghetto by any standards, were hardly likely to vote for a mild-mannered moderate like Nick Clegg.
Surrounded and imprisoned, over populated and denied access to anywhere – even to the sea – the population was bound to vote for someone who promised to fight back.
The only way Israel can stop the violence is to stop the violence! They need to be bold and take the imaginative steps that I suggest:
They have to recognise Palestine, dismantle the settlements, remove The Wall and take the boundary back to the 1968 line. And they should stop attacking the Palestinians.
Once they have done that, then the United Nations should send in a huge team of international observers/monitors/peacekeepers.
The ball is absolutely in Israel's court and Israel owns the court – lock, stock and smoking barrel.
By the way, I know many Palestinians who have Christian names. That is because many of them are Christians!