by Terence Strong
Events appear to be entering the very end game for Da'esh (Islamic State) in Syria.
While British RAF Typhoons contributed to air support with Storm Shadow and Brimstone missiles, 60 plus troops of B Squadron 22 SAS reportedly advanced on the town of Baghuz on the banks of the Euphrates river. They deployed by RAF SF Chinook helicopters and dune buggies, alongside American and French Special Forces, which were based at Al Qaim over the border in Iraq.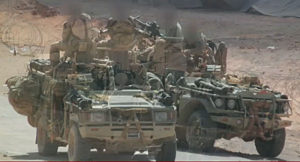 Fighting alongside fighters of the US-backed Syrian Democratic Forces (SDF), the elite soldiers suffered two casualties whilst killing 150 jihadis in the ongoing battle.
Over 600 mortar rounds were used, driving the remaining IS fighters into a defensive tunnel system.
The severed heads of over 50 Yazidi female sex slaves were discovered, shocking even the most combat-hardened soldiers, marking the death cult's final act of depravityand barbarity.
Several IS commanders were apparently caught trying to escape the area disguised as women in traditional Arab dress. There appear to be now only some 200 IS fighters remaining, trapped in Hawi- al-Dandal, a mere mileage of scrub on the river bank.
They may have nowhere to run, but unfortunately the terrorists do still hold over a hundred civilian hostages.